Sports
At The Flying Start Federation we value the importance and benefits of regular physical activity not only for the obvious health benefits it provides but also for the impact it has on our children's emotional and social well-being. We therefore aim to help empower our children by helping them discover their own personal qualities whilst providing them with the knowledge and skills needed to enable them to become confident and keen enough to participate in a wide range of sports and activities.
| | | |
| --- | --- | --- |
| | 2015/2016 Sports Calendar | |
| | | |
| Date | Event | Year Groups |
| | | |
| 12th-14th October 2015 | Forest School at Horwood Coombe Forest | Year 5 |
| 19th - 20th October 2015 | Multi-Activity Residential at Great Potheridge House | Year 4 |
| 21st October 2015 | Stephen's Shield Cross Country - Torrington | Selected KS2 Children |
| 2nd December 2015 | Multi-Skills Festival at GTS | All of Year 1 and 2 |
| 13th January 2016 | Sports Hall Athletics at GTS | KS2 Squad of 12 |
| 1st February 2016 | Football Tournament at GTS | KS2 Squad of 9 children |
| 10th February 2016 | High 5 Netball Tournament at GTS | KS2 High 5 Netball squad of 7 |
| 3rd March 2016 | Tennis Sessions provided by Tarka Tennis | Year 5 |
| 14th - 17th March 2016 | Bikeability Training on site | Year 5 |
| 21st - 23rd March 2016 | Forest School at Horwood Coombe Forest School | Year 3 |
| 21st - 24th March 2016 | PGL Multi-Activity Residential | Year 6 |
| 22nd April 2016 | Cross Country at Monkleigh | All of KS2 |
| 23rd May 2016 | Rounders Festival at GTS | Year 5 and 6 Squad of 12 |
| | | |
Inter Schools Opportunities
As part of the Torrington learning community we are very involved with the Great Torrington School Sports Co-ordinator who does a wonderful job of organising and running a wide range of festivals and competitions throughout the school year. We take part in as many of these events as we can. Some of the events feed into further competitions in the form of area finals which we have qualified for in the past. Our children really enjoy these events whilst also accepting the competitive element of such occasions and over the years we have experienced many successes.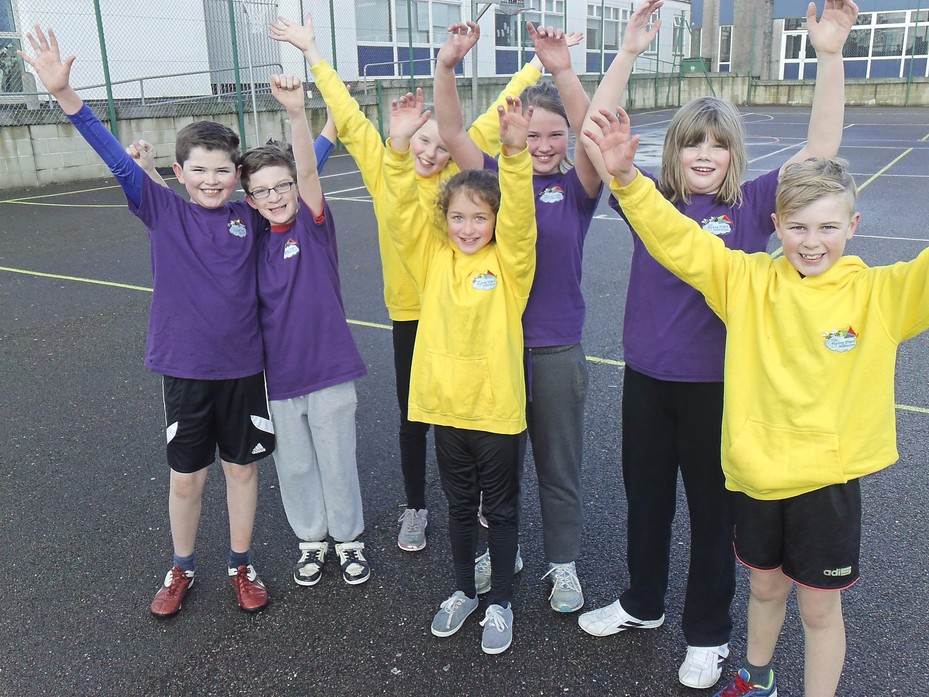 We recently came 3rd in the Netball and Football Festival held at GTS.
During March we enjoyed many sporting opportunities one of which was Tennis. One of the coaches from The Tarka Tennis Centre travelled to both schools and taught all the children from each year group. We had a thoroughly enjoyable time, many of the children asking if we could do it again.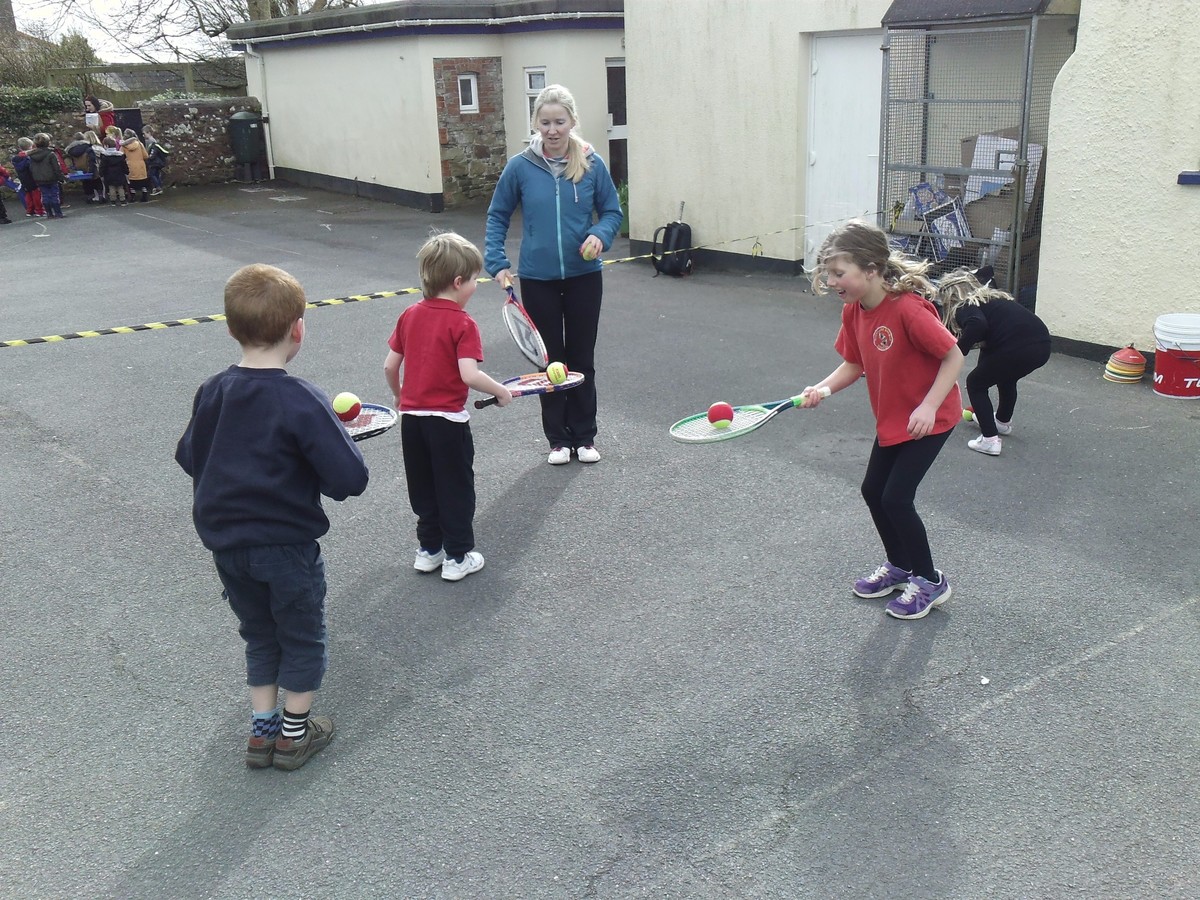 In April, we attended the annual Cross Country Event held by Monkleigh Primary School. We took a selection of children from KS2 from both schools to represent the Federation. All of the children performed brilliantly. One child was overheard saying "I didn't realise I could run so well. I'm going to run more often". Our best result on the day was achieved by one of our year 6 children who came 2nd in his race. However, all of the children achieved more than they thought they would, some being super proud of themselves for just getting around the course. Another fantastic day was had by all.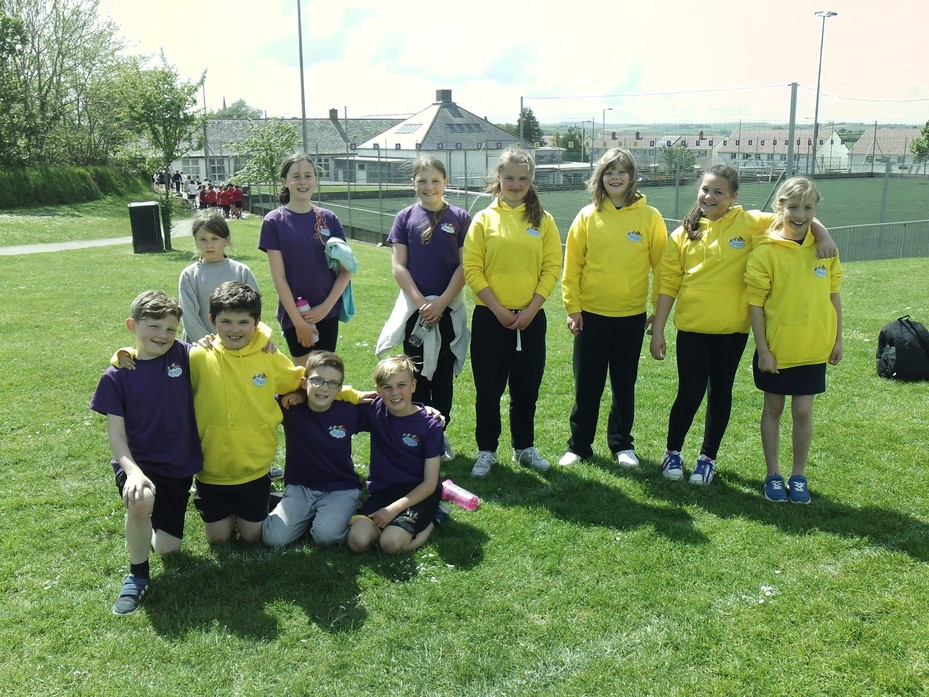 Team photo before the Rounders festival.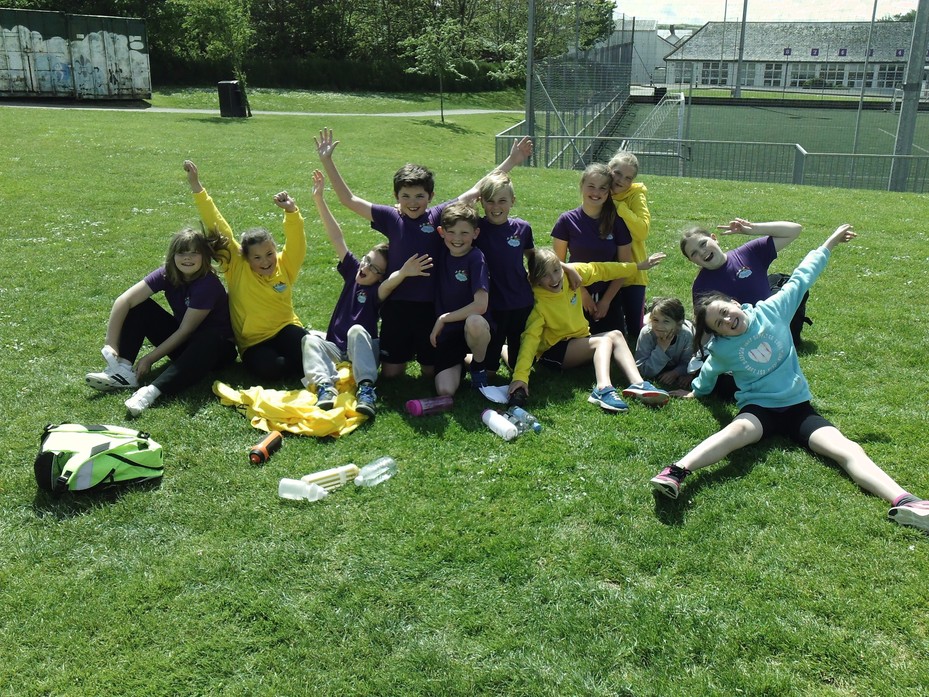 Team photo after the Rounders Festival.
In May we were really excited to attend our second rounders festival at GTS. We had attended the year before and although we had come last, we had been recognised as the team that had made the most progress in our play throughout the day. This year we had put the practise in and were ready for anything. We played brilliantly and even managed to field out a whole team which the children were incredibly proud of themselves for. Our overall position in the festival was 3rd, a result we were very happy with.
Extra Curricular Programme
As you can see from our busy sports calendar, we offer our children many extra curricular activities in the form of Forest School and multi activity residential's. We try to ensure that all children in KS2 get to experience these opportunities whilst also letting the children in KS1 have a taster too.
We are lucky enough to have a forest school right on our doorstep. All the staff at Horwood Coombe Forest School are fully trained and experienced and all risk assessments are thoroughly carried out. Our children absolutely love their forest school experiences and the unique learning opportunities it provides. Some examples of the skills our children learn include survival skills, campfire cooking, orienteering, decision making as well as learning about food origin, healthy food and food chains etc. As well as these skills our children also discover new things about themselves and their environment by learning about ways to work with and take care of the natural world.
We also offer our children the opportunity to experience a multi activity residential break during their time in KS2 at either the PGL Centre at Beam House in Torrington or Great Potheridge House in Merton both of which have instructors which are qualified to an extremely high standard. During their stay children are encouraged to take part in activities such as mountain biking, archery, rifle shooting, trapeze, zip wire, orienteering and more. Key skills are developed throughout their stay such as communication, teamwork and problem solving. Every child who has taken part in one of our residential experiences as thoroughly enjoyed their stay, many being overjoyed that they were brave enough to face some fears and as a result leave feeling more confident then when they arrived.